CLICK HERE TO ORDER – http://www.gfl.tv/event/Fight/Boxing/WFC-26/2510
Hard hitting boxing returned as WFC presented "WFC 26" from the Belle of Baton Rouge in Baton Rouge, Louisiana on the GFL Combat Sports Network. WFC events are the premier boxing shows in the Gulf Coast as they are the proving grounds for tomorrow's future stars and established veterans looking to mix it up. These expert pugilists threw down from the opening bell, providing a great night of fights for the fans.
In the main event, in a light middleweight bout, Travis Scott (17-0) and K Lon Spencer (4-1) fought to a no contest after an accidental head butt opened up a cut above Spencer's right eye. Both Scott and Spencer were throwing haymakers from the opening bell, but in the second, when both fighters were firing off punches at a close range, Scott ducked his head to avoid a punch and it collided with Spencer's head, opening the cut above the eye. Spencer still wanted to continue to fight, but the doctor put fighter safety first and stopped the fight. Hopefully Scott and Spencer can do it again as it was shaping up to be a fun fight.
In the super middleweight division, Justin Thomas (8-0) defeated Martin Verdin (20-17-2) via unanimous decision after 6 rounds of action. Thomas executed a perfect game plan as he kept his distance and landed left hands and straight rights as he racked up points throughout the fight. Verdin tried to close the distance but couldn't put as many combos together as Thomas who was also elusive with his defense. It was a strong win for Thomas who defeated a battle-tested fighter in Verdin to remain undefeated. Expect Thomas to continue to rise up the ranks.
Demond Brock (7-2) defeated Gary Bergeron (12-9) via unanimous decision in a light welterweight title. Brock was fast and furious as he scored with right crosses, uppercuts, and hooks while Bergeron retaliated with jabs and overhands. Brock and Bergeron engaged in several great exchanges, but in the end, Brock landed a greater volume of punches and also connected with hard shots which helped him in the scorecards.
The only stoppage of the night came at the hands of Arthur Thomas (1-0) who defeated John Revish (10-11-2) via TKO in the third round. Thomas quickly established the jab and worked Revish over pretty well until finishing the bout with a nice combo that sent Revish down for good. It was a strong debut fight for Thomas who looks to get back into the ring as soon as possible.
Be sure to catch all of the hard hitting action anytime on VOD as WFC presents "WFC 26" exclusively at GFL.tv.
CLICK HERE TO ORDER – http://www.gfl.tv/event/Fight/MMA/CFFC-40–Nick-Honstein-vs-Darren-Mima/2501
Cage Fury Fighting Championships returns to GFL.tv with championship level MMA with "CFFC 40″ from the Valley Forge Casino Resort in King of Prussia, Pennsylvania. Pro MMA fighters from around the East Coast will descend on this card that features several of the top ranked and up and coming athletes in the region including a title fight. CFFC has expanded its stranglehold on Northeast MMA as they continue to pump out one blockbuster show after another.
In the main event, Darrell "The Saint" Horcher (9-1) takes on Alessandro Ricci (8-2). Horcher is currently on a 2 fight win streak and had a 3-fight stint with Bellator where he went 2-1 and has made a name for himself with his devastating knockout power having KO'd 4 of his previous opponents. Horcher will be looking to make Ricci pay with punches and kicks from the opening bell. Ricci is a grizzled veteran and comes into the cage for the third time in 2014. Ricci will not wilt under the bright lights and in fact will pour kerosene on this explosive fight. This will be a fight of two world class MMA athletes and the winner will rise up the ranks and take that next step into being a #1 contender. Expect a barnburner as these two won't quit.
In the co-main event, with the CFFC Flyweight Title on the line, Champion Nick Honstein (15-6) battles Darren Mima (5-1). Honstein is probably the most dangerous 125 lb fighter on the East Coast. Honstein won the title back in April with a dominant performance and looks to defend his belt for the first time. Honstein brings a dangerous submission game into the cage and is also an underrated wrestler. Honstein is huge for the division and he knows how to use his size in the cage. Look for this fight to steal the show and be one of the better fights of 2014 in general. Mima is ruthless with his ground game as he is constantly pressing the action using his high level grappling and trying to find an opening to finish the fight with a submission. Mima also has KO power in both hands, making him a threat from anywhere the fight goes. Mima is one of the most feared fighters in the area and he will come out ready to take the title from the opening bell. Don't blink when these two lock up.
Be there to witness who climbs up the ladder and who is hurled off it as "CFFC 40″ throws down the gauntlet on GFL.tv once again!
CLICK HERE TO ORDER – http://www.gfl.tv/event/Fight/MMA/Australia-Fighting-Championship-10/2441
Australian Fighting Championship presented "AFC 10″ from the Melbourne Pavilion in Melbourne, Australia. The thrilling event featured 9 bouts with 8 finishes featuring some of the best of the best from the country of Australia including two title fights that highlighted a stacked card.
In the main event, Bernardo Magalhaes (8-4) defeated Kieran Joblin (6-2) via majority decision to win the vacant AFC Lightweight Title. This fight was primarily contested in the standup with each fighter scoring with heavy shots. Joblin pulled ahead early with his boxing skills as he landed punches from various angles that had Magalhaes on his heels. Joblin also did a great job of cutting off the ring early in the fight. Magalhaes was strong on the ground and he was able to get the fight to the mat throughout the fight and as much as Joblin pushed the pace in the standup, Magalhaes dominated on the mat. Joblin did a great job of avoiding submissions, but as the fight wore on, Magalhaes was able to negate the striking advantage of Joblin by landing multiple takedowns and controlling the action with his grappling, transitions and top control. Magalhaes also managed to inflict some punishment from the ground as he scored with ground and pound. If these fighters fought 10 times, each of them would most likely win 5 each. On this night, it was the wrestling and grappling of Magalhaes that won the day.
In the co-main event, Talgat Ilyasov defeated Amin Yaqubi via arm triangle in the second round. Ilyasov negated the height advantage of Yaqubi by getting the fight down to the ground early in the first round after a great scrap to start the fight. In the second, Ilyasov got another takedown where he found himself in mount position. Before Yaqubi could do anything about it, Ilyasov had slapped on an arm triangle and put Yaqubi to sleep. It was a dominant win for Ilyasov who had a very specific game plan, and executed it with precision.
Daniel Way defeated Joe Muir via TKO in the third round of a slugfest. This was a barnburner as both men were bloodied, battered and bruised. The end came after Way had scored with tons of knees from the clinch and Muir, never willing to give up, got a takedown off of one of the knee attempts. The fighters got tangled up in the ropes and when the ref tried to restart them in the middle of the ring, the doctor took a look at Muir and waved the fight off. It was an epic end to a fantastic fight. Both fighters battled with their hearts on their sleeves and gave the fans the fight of the night.
Peter Davenport, Mitch O'Dowd, and Alex Anthony all won via submission while Nick Davis, Luke Catubig and Dan Ginnane won with strikes.
Australian Fighting Championship proved once again why they are Australia's premier MMA organization. AFC always plays to a packed in house crowd and now fight fans across the globe are in luck as this blockbuster event is available live to a worldwide audience on the GFL Combat Sports Network at GFL.tv. Order now and own it for life!
Whether your sport is MMA, boxing, kickboxing, Muay Thai or even pro wrestling, combat sports fans alike can gain access to the entire GFL library of events (30 days or older) for only $9.99/month That's more than 2300 events, 25,000 fighters, 15,000 fights and 12,000 hours of video. To learn more about accessing the world's largest combat sports library hit the subscribe button on the GFL homepage for more info.
CLICK HERE TO ORDER – http://www.gfl.tv/event/Fight/MMA/CFFC-39-Heckman-vs-Gerhart/2531
Cage Fury Fighting Championships returned to GFL.tv with championship level MMA with "CFFC 39″ from the Sands Event Center in Bethlehem, Pennsylvania. Pro MMA fighters from around the East Coast descended on this 9-bout card that featured 4 stoppages highlighting several of the top ranked athletes in the region. CFFC has expanded its stranglehold on Northeast MMA as they continue to pump out one blockbuster show after another.
In the main event, Scott "The Animal" Heckman (18-5) defeated Troy Gerhart (6-3) via D'arce choke in the third round in an impressive fight. The first round was mostly the two fighters trying to find their distance and throwing punches and kicks from a far and not committing too much. In the second, the southpaw Gerhart started to open up more with strikes becoming more offensive while Heckman remained collected and tried to counter punch as well as go for takedowns that Gerhart defended extremely well. Gerhart landed some solid body kicks as he got on the inside a few times, but for the most part, both fighters were still picking their spots with neither willing to overcommit as they both respected the other's ability to end the fight at any moment. In the final round, both fighters traded strikes until Heckman landed a power jab that knocked Gerhart down for a split second. Heckman immediately went to the ground and locked on a guillotine choke before transitioning to a D'arce choke as he wrapped Gerhart up with his legs as well making it impossible for Gerhart to escape. Finally, Gerhart tapped out and ended what was a very technical, high level MMA fight that could have been contested on any card with any organization as these two displayed top level MMA.
In the co-main event, Nate Vantassell (3-2) shocked the crowd with a first round RNC of Bellator veteran Brett Martinez (6-2) in a lightweight showdown. Vantassell was the much bigger fighter and after a brief skirmish in the clinch, Vantassell landed a straight right hand that dropped Martinez. Martinez got a breather as time was called for an illegal knee on the ground by Vantassell. When action resumed, Martinez went for a takedown but Vantassell ended up in full mount where he reigned down punches. Martinez flipped over to his stomach to avoid the strikes and that's where Vantassell locked in the rear naked choke and got the tapout. This was the biggest win of Vantassell's career and he showed that he is ready to take that next step up in competition.
Mike Pope (3-1) defeated Thad Frick (1-1) via unanimous decision. Pope used wrestling 101 to control the fight from the beginning until the end. He got multiple takedowns and shut down any offense from Frick who was fighting from his back or just fighting to get up for most of the fight. It was a dominant win by Pope who showed that his wrestling and grappling is a tough matchup for anyone in CFFC.
Be there to witness who climbs up the ladder and who is hurled off it as "CFFC 39″ throws down the gauntlet on GFL.tv once again! Watch this fight anytime on VOD and own it for life. Order now!
CLICK HERE TO ORDER – http://www.gfl.tv/event/Fight/MMA/Atlas-Fights-21/2434
Mississippi's #1 MMA promotion hit a homerun on GFL as AFC presented "Atlas Fighting Championship 21″ emanating from the Golden Nugget Casino & Hotel in Biloxi, Mississippi. This event featured 8 finishes in 10 bouts showcasing the top up and combing prospects from the Gulf Coast. AFC is the premier MMA organization in the Magnolia State and now fans across the globe can see these Southern gladiators compete in the cage.
In the main event, in the welterweight division, William Kuhn (12-10) defeated Cody Senseny (7-1) via unanimous decision. Kuhn used dominant wrestling and top control to win the fight. Kuhn had several takedowns as well as scored from the top while Senseny looked for armbars from the bottom. Kuhn defended the submission attempts by Senseny and continued to grind away from on top. It was a one sided win for Kuhn who only had to rely on his wrestling to stifle the attacks of Senseny who found himself on the bottom for the majority of the fight.
In the lightweight division, DeMarques Jackson (3-0) defeated Josh Davila (3-2) via unanimous decision. This was fight of the night as both Jackson and Davila gave everything they had, but Jackson had just a little more. Jackson scored with punches and kicks in the standup that busted Davila up a bit, but Davila was happy to exchange as he landed strikes of his own. Both fighters found themselves on top while on the ground, but Jackson was able to do damage from the position and the punishment Davila started to absorb began to slow him down late in the fight. Jackson continued to push the pace and score with an assortment of punches and kicks and even mixed up some takedowns in the final round on his way to a solid victory over a very game opponent.
Frank Tate (6-1) defeated Patrick Partridge (2-3) via KO in the second round in a heavyweight tilt. This fight had tons of big punches as Partridge dropped Tate in the first round, with a haymaker and tried to finish the fight on the ground. Tate survived into the second round where it was his turn to land huge bombs. In the second, Tate connected with a nice overhand right that dropped Partridge and Tate followed up with a huge looping punch on the ground that ended the fight in devastating fashion.
Corey Wilson (12-3-1) defeated Chris Falasca (4-4-1) via TKO in the third round. Wilson and Falasca put on a tremendous fight as they went to battle from the opening bell. Wilson and Falasca traded punches and fought with a furious pace while on the ground going for submissions. In the end, Wilson showed an iron chin and put Falasca away with a nice combo in the final round. Wilson's win was as much about his striking as his cardio conditioning as he was able to land the crisper punches.
You won't find more BANG for your buck so order this thrilling event. Be sure to catch all of the action anytime on VOD as AFC presents "Atlas Fighting Championship 21″ on pay-per-view exclusively at GFL.tv.
Courtesy of Al Stover of thelivingdaylights.co
In a time when women's mixed martial arts continues to grow at a breakneck place, Nordic Coliseum Women's Boxing (NCWB) took a step forward and said "hey we can put on great events too." And they put on quite a show, especially in their main event as fomer WBC Super Fantamweight champion and Canada's own Olivia "The Predator" Gerula – who took the fight on four weeks notice –  defeated IBFA Super Bantamweight champion Kaliesha "Wild Wild" West.
West scored a knockdown on Gerula five seconds into the first round, though The Predator quickly bounced back. The match was pretty close with Gerula pushing forward and West throwing her own shots. It was a match that went all eight rounds. It was a good way to cap off NWCB's first event.
Besides the main event, there were several notable bouts on the card.
In the co-main event, Lita Mae Button defeated the debuting Maureen Riordon via decision in what was both fighters' professional debut.
In what many could consider the "Fight of the Night," Jennifer Santiago kept her undefeated record – she's now 4-0 – intact after a close scrap with Sherine "Rosie" Thomas. Both fighters were aggressive and trading leather – as well as headbutts – all the way until the final bell.
Brenda Gonzalez defeated Luicia Osequeda's via majority decision in what a display of good technical striking. She snapped Osequeda's undefeated record.
Besides Button and Riordon, the undercard also featured some action-packed bouts with several fighters making their professional debut.. Golden Gloves winner Alicia Napoleon stopped veteran Monique "The Animal" Duval in the first round.
Muay Thai champion Ashley Nichols scored a decision victory over MMA veteran Amanda "The Glitch" Lovato after an action-packed war.
Judy Pereia picked up a decision win over Eloise Picard in the first bout of the night.
The idea behind NWCB's card was to take fighters who are adept in different disciplines and put them in the ring to see if they want to try boxing. Some of those of those fighters, you'd think they have been in the ring several times.
All in all this was a historic night for women's boxing and I'll be interested to see what NCWB does next for their next card.
DiBella Entertainment put on another invigorating show at the famed BB King Blues Club and Grill in New York City last night.
In the main event, former WBC Featherweight champion Elio Rojas (24-2, 14 KO's) returned to the ring after a two and a half year layoff, and soundly defeated Robert Osiobe (14-10-4, 6 KO's) by an eight-round unanimous decision. Rojas won via scores of 80-71 twice and 79-72.
Rojas, 31, landed numerous lead right hands while fiercely battling Osiobe's rough tactics throughout the entire match-up. During round five, referee Arthur Mercante, Jr. deducted one point from Osiobe for excessive holding. Osiobe, 36, showed great difficulty dealing with Rojas' adept hand speed and lateral movement.
The bout took place at junior welterweight.
Junior lightweight Bryant "Pee Wee" Cruz (12-0, 6 KO's) captured a six-round majority decision victory over tough Jose Morales (7-6, 2 KO's) in the co-main event. The final tallies were 57-57, 60-54 and 59-55.
Both fighters exchanged blow-for-blow in close quarters for the full eighteen minutes to please the sellout crowd. The fight appeared much closer than the official scorecards indicated.
Despite sustaining a hematoma on the right side of his forehead, Derrick Findley (21-13-1, 13 KO's) shocked Lamar Russ (14-2, 7 KO's), winning an eight-round unanimous decision via scores of 77-72, 76-73 and 75-74.
Although Russ exhibited a clear height and reach advantage, Findley popped him early in round one with consecutive right crosses.
Findley continued to counter Russ effectively in the second round, connecting with a hard right uppercut to the body.
In the opening moments of round four, Findley unleashed a left hook that instantaneously floored Russ. Shortly thereafter, Findley developed a large hematoma on his forehead. It was unclear from ringside if a punch, elbow or headbutt caused the massive swelling. Next, Russ briefly abandoned his jab and threw wild, looping  shots. After examining Findley when the round ended, the ringside physician allowed him to continue fighting.
Referee Arthur Mercante, Jr. deducted one point from Russ in the seventh round for holding. Then, Findley threw and connected with a colossal right hand shot that sent Russ crashing onto the canvas. Surprisingly, Russ recovered and made it to the eighth and final round.
During the final minute of action, Russ peppered Findley with three straight right crosses to the head. After that, Findley landed a crushing left hook on Russ' jaw. From that moment on, both combatants traded fiercely until the final bell.
Brooklyn featherweight Rafael Vazquez (12-1, 10 KO's) scored a TKO victory at 1:20 of round five against Derrick Wilson (10-7-2, 3 KO's) in the most exciting fight of the night.
Wilson, 25, worked well behind his left jab in the first round and used lots of lateral movement to stifle the offense of Vazquez.
Wilson continued to outwork Vazquez in round two, but Vazquez tagged him early with an accurate left hook-right cross-left hook combination.
Just as Wilson appeared to find his range in the third round, Vazquez, 36, dropped him with a lightning-quick left hook to the face.
Vazquez nailed Wilson with a right cross-left hook combination to begin round four. Then, a right uppercut followed by a swift left hook from Wilson dropped Vazquez. Moments later, Vazquez staggered Wilson with a right cross-left hook combination.
Wilson desperately tried to clinch after getting struck with a well-placed right hand shot from Vazquez in the fifth round. Subsequently, Vazquez fearlessly assaulted Wilson with right crosses until the bout was stopped.
Light heavyweight Junior Younan (6-0, 5 KO's) blitzed right through Marlon Farr (4-7) in :26 of the 1st round.
After trapping Farr in a neutral corner, Younan, 18, knocked Farr unconscious with a series of brutal right crosses and left hooks. Referee David Fields was a few seconds late on the stoppage, causing Farr to absorb approximately three unnecessary blows to the head.
Louis Cruz (9-0, 4 KO's) stayed undefeated, scoring a six-round unanimous decision versus Cameron Krael (5-6-2) by scores of 60-54 twice and 58-56.
Cruz, a junior welterweight, used his proficient foot speed to outbox his foe. Yet, Krael was relentless, and attacked Cruz with crisp, clean body shots for the duration of the fight. When Cruz had trouble containing Krael, he released sudden lead right hand shots. Cruz sustained minor swelling underneath his right eye during the fifth round. The judges' official scorecards were not reflective of the competitiveness put on display by Krael.
In cruiserweight action, Travis Peterkin (11-0, 5 KO's) outpointed Lamont Williams (5-5-1, 2 KO's) in a six-round bout via scores of 60-54 and 59-55 twice. Peterkin, a southpaw, pressed the action throughout the fight, but threw too many wide punches. As a result, he lacked the delivery to finish Williams.
Junior welterweight Jonathan Alonso made a successful pro debut, stopping Jose Gomez (3-8) at 1:52 of round three. Born in the Dominican Republic, but now residing in Spain, the 23-year-old prospect displayed a definitive advantage of hand speed and natural power. While Gomez possessed a sturdy chin, he consumed a multitude of grueling shots with each passing round.
A fast right uppercut to the body and then to the head from Alonso left Gomez crouching in the corner, and the fight was immediately stopped.
By Marc Abrams of www.15rounds.com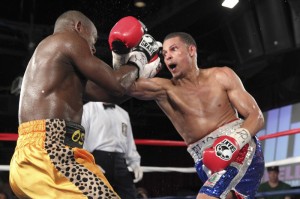 Former Featherweight titlist Elio Rojas won an 8-round unanimous decision over Robert Osiobe in a Super Lightweight bout at BB King's Blues Club in New York City.
Rojas dominated the fight and Osiobe was docked a point in round 5 for holding.
Rojas, 136.6 lbs of Santo Domingo, DR won by scores of 80-71 twice and 79-72 and is now 24-2. Osiobe, 137.8 lbs of Las Vegas is now 14-10-4.

Bryant Cruz scored a 6-round majority decision over Jose Morales in a Jr. Lightweight bout.
Scores were 60-54, 59-55 and 57-57 for Cruz, 130 lbs of Port Chester, NY and is now 12-0. Morales, 130 lbs of Denver, CO is now 7-6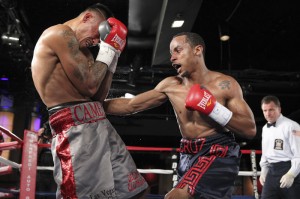 Louis Cruz got a tough battle but won a 6-round unanimous decision over Cameron Krael in a Super Lightweight bout.
Cruz, 140 lbs of Bronx, NY won by scores of 60-54, 59-55 and 58-56 and is now 9-0. Krael, 140 lbs of Las Vegas, NV is 5-6-2.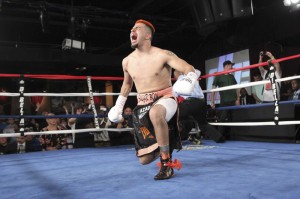 Junior Younan destroyed Marlon Farr just 26 seconds into their scheduled 4-round Super Middleweight bout.
Younan froze Farr with a left hook and then landed 5 unanswered blows until the bout was stopped.
Younan, 168.2 lbs of Brooklyn is now 6-0 with 5 knockouts. Farr, 167.3 lbs of Zephyrhills, FL is now 4-7.

Rafael Vazquez scored 5th round stoppage over Derrick Wilson in a scheduled 8-round Jr. Featherweight bout.
Vazquez dropped Wilson in round three and the fight was stopped at 1:20 of round round five.
Vazquez, 122.4 lbs of Brooklyn, NY is now 12-1 with 10 knockouts. Wilson, 122.6 lbs of Ft. Myers, FL is now 10-7-2.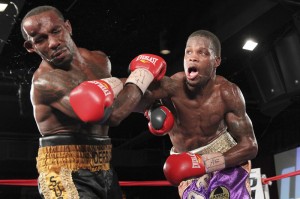 Derrick Findley scored a mild upset as he dropped Lamar Russ twice en route to a 8-round unanimous decision in a Super Middleweight bout.
Findley dropped Russ with a big over hand right in round four. In round six, Findley suffered a grotesque Hematoma but he was able to fight through and drop Russ again in round seven from the same overhand right. Russ for his troubles was deducted a point in the 7th for holding.
Findley, 161.6 lbs of Gary, IN is now 21-13-1. Russ, 162 lbs of Fayetville, NC is now 14-2.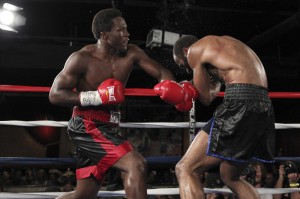 Travis Peterkin remained undefeated with a 6-round unanimous decision over Lamont Williams in a Cruiserweight bout.
Peterkin, 178.6 lbs of Brooklyn, NY won by scores of 60-54 and 59-55 twice and he is now 12-0. Williams, 180 lbs of Sacramento, CA is now 5-5-1.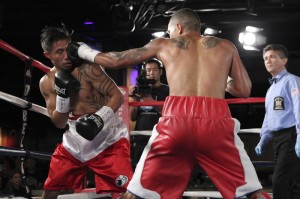 Jonathan Alonso scored a 3rd round stoppage over Jose Gomez in a scheduled 4-round Jr. Welterweight bout.
Alonso hurt Gomez with a right to the body that crumpled him in the corner and the bout was stopped at 1:52 of round three.
Alonso, 139.4 lbs of Madrid, Spain was making his pro debut. Jose Gomez, 136.6 lbs of Kent, WA is now 3-8.
Photos by Ed Diller / Dibella Entertainment
GFL PRESENTS "REAL FIGHTS" ON THE COMCAST NETWORK (TCN) & COMCAST SPORTSNET (CSN)
"GOLDEN GLOVES: PART 1" BEGINNING AUGUST 18
August 15, 2014
GFL, The Comcast Network and Comcast SportsNet continue their weekly combat sports series, REAL FIGHTS, with world class boxing as GFL presents another show stopper with Golden Gloves: Part 1, featuring a full lineup of up and coming boxers from around the New York area.
The Daily News Golden Gloves brings a knockout lineup of fights to Brooklyn at the Barclays Center.
To celebrate its 86th anniversary, the Golden Gloves—amateur boxing's most prestigious tournament—will host two days of finals at the new state-of-the-art arena, which is proud to showcase the very best in professional and amateur boxing as part of its ongoing lineup of events.
The Daily News Golden Gloves has produced such greats as Emile Griffith, Jose Torres, Floyd Patterson, Howard Davis and Brooklyn natives Riddick Bowe and Mark Breland, so don't miss your chance to catch the best brawlers of boxing's next generation as they go the distance in Brooklyn.
For 87 years, The Daily News Golden Gloves has given men, women, boys and girls in the five boroughs and beyond the chance to call themselves a champion. This year, while 24 new winners will be crowned, the Daily News Golden Gloves will honor 12 of its finest champions and four of its most valued leaders with induction into the inaugural Golden Gloves Hall of Fame.
Born in 1927, the Golden Gloves quickly grew into one of the most popular sporting events in the country. Since that first year, more than 100,000 New Yorkers have stepped into the Golden Gloves ring, with some 1,500 champions walking away with the iconic gloves pendant around their necks. It is still the largest and most prestigious amateur boxing event in the world with the possible exception of the Olympics, and has produced more world champions (41) than any other tournament.
The Gloves Hall of Fame was created to recognize and honor those exceptional amateur champions. These men and women were chosen by a selection committee composed of five members with a combined 100-plus years of amateur boxing experience including: current tournament director and former three-time Golden Gloves champion Brian Adams, former Daily News sportswriter and Gloves historian Bill Farrell, Gleason's Gym owner Bruce Silverglade, Yonkers PAL program director Sal Corrente and longtime boxing contributor Julio Salinas Albino.
"I thought it was time to have a home for the fellow champions, regardless of any other accolades they may accomplish in boxing. The Golden Gloves is still the twinkle of their eye," Adams said. "Now with this Hall of Fame, their memories are guaranteed to stay alive."
Air times are listed below:
The Comcast Network (TCN) (all zones): Monday, August 18 at 7:00pm ET
TCN Replay (Mid Atlantic): Friday, August 22 at 9:00pm ET
TCN Replay (Philly): Saturday, August 23 at 8:30pm ET
TCN Replay (Mid Atlantic): Saturday, August 23 at 11:00pm ET
TCN Replay (Mid Atlantic): Sunday, August 24 at 5:00pm ET
CSN Philadelphia: Thursday, August 21 at 7:00pm ET
CSN Philadelphia: Sunday, August 24 at 11:00pm ET
CSN regions in other major markets including CSN Northwest and CSN Bay Area will also be airing Golden Gloves: Part 1 in the weeks and months to follow. In addition, close to 25 cable and satellite systems carry CSN and because of that wide distribution across numerous regions and even nationally via satellite, GFL REAL FIGHTS is available on additional platforms.
To stay connected with GFL and this unique fight series, visit these TCN & CSN online locations for up-to-the-date programming info.
The Comcast Network http://www.csnphilly.com/page/tcn
CSN Philadelphia http://www.csnphilly.com/ontv/listings
CSN Washington http://www.csnwashington.com/ontv
CSN Baltimore http://www.csnbaltimore.com/ontv
CSN New England http://www.csnne.com/pages/oncsn
CSN Northwest http://www.csnnw.com/ontv
CSN Bay Area http://www.csnbayarea.com/ontv
Upcoming Events on Comcast
8/18: Golden Gloves: Part 1 (boxing)
8/25: CFFC 38 (MMA)
9/1: PowerPlay 24: Parr VS Smith (kickboxing)
9/8: CFFC 40 (MMA)
9/15: Broadway Boxing: Bone VS Figueroa (boxing)
9/22: Joe Hand Promotions: Tuesday Night Fights 2 (boxing)
About GoFightLive
GFL is a pioneer in Internet Sports Broadcasting.  Over the years GFL has broadcast more than 1700 live events to fans in over 199 countries worldwide and has a video library exceeding 8000 combat sports videos comprising more than 5,000 hours of programming.   GFL is especially proud to have served greater than 5 million public viewers over the years with more than 250 combat sports related website affiliates in its network.  GFL is also available on Roku, Boxee, Android, IPhone, IPad, as well as other internet ready devices. Check the event page for details. Join us at: www.GFL.tv or https://www.facebook.com/GoFightLive.tv or  twitter.com/GFL or youtube.com/Gofightlive or inquiries contact press@gfl.tv
CLICK HERE TO ORDER – http://www.gfl.tv/event/Fight/MMA/XFE-45/2460
Courtesy of Adam Crist of mma-insider.com
130 Catchweight Brandon Davis vs. Lizandro Zhan
Round 1: Davis opens the bout with two heavy takedowns and is able to hold them for the most part. Zhan attempted an armbar after the second takedown, but Davis scores side control to close the round. In my opinion, round 1 goes to Davis. Round 2: Fighters feel each other out as Davis secures the early takedown again. Davis stands as both fighters paw with jabs. Zhan attempts to come in with heavy strikes but is met by another double leg. Not much action on the ground as they stand. With seconds left in the round, Davis comes forward again with the takedown landing in side control to end the round. My opinion – Davis is up 2-0 Round 3: Zhan, looking desperate, comes out early with heavy strikes but is taken down into side control yet again. The action stalls and the referees stands them up. Davis again attempts the takedown from outside, but Zhan fends it off. A brief tie up in the clinch is all Davis needs to secure a heavy slam to end the round and bout.
Brandon Davis wins via unanimous decision.
130 Catchweight Justin Flaharty vs. Izzy Encarnacion
Round 1: Both fighters come storming forward with vicious shots, but Flaharty lands the better of the combinations. Encarnacion weathers the storm and starts unleashing. During a the midst of a heavy exchange, Encarnacion accidentally landed a low blow sending Flaharty to the canvas for a few. Upon restarting, Flaharty charged forward with vicious combinations, and Encarnacion weathered the storm, yet again. The round closed with Flaharty breathing heavy, and Encarnacion calm and collected, unleashing a few kicks to the midsection. Round 2: Flaharty again presses forward, but Encarnacion scores an early takedown and works his ground and pound. During a scramble Encarnacion gains full mount and unleashes from on top to finish the stanza. Round 3: Flaharty opens the round with punch combos landing at will. Encarnacion finally gets his arms wrapped around Flaharty and takes him down as Encarnacion lands with a guillotine. Flaharty escapes, and Encarnacion ends the fight in half guard.
Izzy Encarnacion wins via split decision.
Featherweight (145): Gospel Uche vs. Eugene Aubrey
Round 1: Both fighters come out pawing shots with nothing significant landing. Aubrey was the first to commit coming forward with a combo and pushing Uche against the cage. Upon scrambling Uche tripped Aubrey to land in side control. Both fighters scrambled to their feet as Uche catches Aubrey in a standing guillotine to end the round. Round 2: Both fighters charged with aggressive punch combos and Aubrey followed with heavy kicks. Aubrey pressed Uche against the cage again seeking the takedown and scoots Uche's legs out for the dump as the round expires. Round 3: Fighters exchange heavy leather to open the round. In the scuffle, both fighters would clinch and circle for the trip. Most of the time, Uche would land on top but Aubrey made it to his feet easily. Aubrey caught Uche later in the round and closed it by heavy ground and pound that the ref paid close attention to and looked as if he was going to stop the contest. However, in the end it was Gospel Uche by unanimous decision as the crowd erupts in boos.
Gospel Uche wins via unanimous decision.
Featherweight (145) John Brennan vs. James Moise
Round 1: Brennan comes forward looking to get the contest to the ground early as Moise fends the takedown. Moise clips Brennan with a combo that sent Brennan down. Moise follows him down looking to finish the job with strikes. Brennan recovers as Moise seeks a guillotine in a scramble with no success. Round 2: Brennan opens the round throwing heavy leather which has Moise back peddling. In a clinch, Brennan gets the takedown and works for positioning. The round closed all for Brennan as he was searching for submission attempts and riding Moise for the remainder of the round Round 3: Brennan comes forward with the accurate strike combos and it's now Moise looks for and secures the takedown. Brennan is able to get the reversal and land on top. Moise gives up his back as Brennan seeks the RNC. The round closes with Brennan on top searching for submissions.
John Brennan win via unanimous decision.
Andrew Richardson vs Shawn Jones
Round 1: Both fighters have an equal scramble trading shots, but Richardson looks sharper and quicker from the gate. Richardson is circling as Jones comes in and Richardson circles in a scramble to Jones' back and gets both hooks in and seeks the rear naked choke. Jones hits the ground as Richardson secures the choke for his debut win at 1:29 of the opening bell.
Andrew Richardson wins via RNC at 1:29 in the first round.
Lightweight Amateur Championship (155): Ed Shupe vs. Jon Forster
Round 1: Action is quick from the start. Shupe comes throwing power shots as Forster immediately dove in for the takedown and searched for an early guillotine. Forster escaped and in a scramble, Shupe gained full mount raining ground and pound and randomly searching for an arm for the submission. The round closed with Shupe attempting an unsuccessful armbar Round 2: Forster gets the early takedown, but Shupe finds it easy to reverse only for Forster to sweep into side control and rain heavy bombs to Shupe to close the round. Shupe is slow to get to his stool, and the doctor enters the cage to check on Shupe and allows the action to continue. Round 3: Shupe still looks hurt and shoots for a lazy takedown but is stuffed as Forster tees off on Shupe with heavy ground and pound. The referee sees enough and stops the contest declaring Jon Forster the new champion only 12 seconds into the 3rd round
Jeff Brown vs. Bill Green was cut from the card as Green didn't show.
Welterweight (170): Travis Funk vs. Nick Willey
Round 1: Willey opens the contest with a low arc styling stance as he paws his jab looking to pepper in for the takedown. He presses Funk against the cage and gets the takedown. The fighters scramble to their feet as Funk attempts the standing guillotine, but Willey weathers the attempt and takes Funk down again landing in full guard. Willey stands momentarily to size up a heavy strike to Funk who is still grounded. Although Willey misses, he lands in side control. Funk regains half guard but Willey postures up and begins landing heavy elbows from the top. Funk scrambles giving his back up as Willey closes the round with strikes from behind. Round 2: Willey follows suit with the first round by pawing his jab followed by an overhand right to the takedown landing in side control. Willey peppers some ground and pound looking to advance positioning. Funk scrambles on the ground as Willey is able to ride him until he finds his opening to rain heavy punches from behind. The referee watched closely until Funk stopped defending himself and the ref stopped the contest. Nick Willey wins his pro debut at 4:11 into the second round via TKO.
Lightweight (155): Trevor Suter vs. Jim Dewar
Round 1: Both fighters begin aggressively with Suter scoring the early takedown. Dewar shows heart and determination scrambling to his feet. Suter followed up with a punch combo and yet another driving shot as he scoops Dewar up for a pulverizing slam that had Dewar hurt. Suter didn't waste any time as he lands in side control and starts landing hammer fists at will. Dewar stops answering and the referee stops it. Suter wins by brutal knockout at 1:15 of the opening round.
Main Event
Lightweight (155): Shelby Graham vs. Jon Delbrugge
Round 1: Graham wants to stand and trade early in the contest, but Delbrugge immediately gets him down. Graham attempts the reversal but Delbrugge's grappling prowess is too much as he easily controls the fight as it hit the floor. As Graham scrambles, Delbrugge transitions from side control to full mount while peppering strikes. Graham gives his back up and that's all it took for Delbrugge to get a body triangle locked. Graham battled it, but Delbrugge secured a rear naked choke ending the contest at 1:56 in the opening stanza.